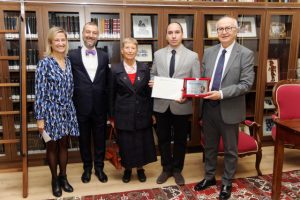 Our PhD graduate Volkan Acun has been chosen as the winner of the 2020-2021 Kalbiye Tansel and Çiğdem Barcan Tansel Thesis Award for Best PhD Thesis by the Graduate School of Economics and Socials Sciences.
His PhD thesis focused on using machine learning to identify sound classification methods for analyzing the audio content of indoor soundscapes and applying this to evaluating the association between the audio content and perception of soundscapes. The data gathered from this is used for creating a machine learning-based prediction model, which can be used as a tool to design and reproduce soundscapes in the future.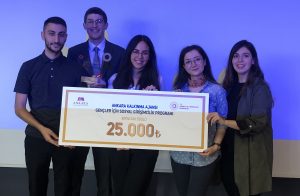 First prize award,  master student Büsra Altıntepe and graduate student Melike Yüksel.
Award Name : Ankara Development Agency Social Entrepreneurship Program for Youth
Project Name: PinGOin https://pingoin.net/
Project's purpose/aim/objectives:
Our project's main goal is to help people with disabilities to be outside freely and enjoy public areas such as parks, restaurants, cafes without being concerned about the accessibility issue. We hope to reach that goal both by informing disabled people about the accessibility criterias of the social areas and improving the accessibility rate of inaccessible places. Within this scope, PinGOin offers architectural renovations considering the universal design.
Team members:
Melike Yüksel (Bilkent University IAED) (Hacettepe University IAED MFA)
Büşra Altıntepe (Bilkent University IAED) (Bilkent University IAED MFA)
Mustafa Yazar (Bilkent University MAN) (Ernst & Young Taxing Department)
Zeynep Gül Akın (Bilkent University PSYC) (Psychologist at Prof. Dr. Selçuk Aslan's office)
---
Reflective Narrative on Cross-pollination between Research and Innovative Teaching for Optimising Contemporary Design Pedagogy
by Naima İftikhar, 28 May 2021  Details>
---
Adaptability, a call to Action by David Calas, 17 February 2021  Details>
---
Dissolutio Urbis: From domestic to social landscape by Fabio Alessandro Fusco, 30 September 2020  Details>
---
Form by Growth  by Raul Pinto, 18 November 2019   Details>
---
Sustainable Approaches in Building Design to Improve Human-Environment Interaction by Aysu Sagun Kentel, 12 April 2019   Details>
---
 Late Ottoman and early turkish republican era housing production from the capital city Ankara by Deniz Avcı Hosanlı, 19 April 2019   Details>
---
Designing Symbiotic Experiences  by Zeynep Birgönül, 17 April 2019   Details>
---
Using Virtual Reality to Evaluate Building Design by Mohamad Nadim Adi 14 January 2019   Details>
---
Color in Architectural Context by Sibel Ertez Ural,  09 January 2019   Details>
---
Inquiries into Light and Health by Burçin Dengiz Olin, 08 January 2019   Details>
---
Sustainable Development by Muhammed Paydar, 20 December 2018   Details>
---
What is an Archipelago by Giuseppe Resta, 13 December 2018   Details>
---
Through a Museum Window by Ekin Pınar, 10 April 2018   Details>
---
Italien Design and Sustainability by Carlo Branzaglia, 28 February 2018   Details
---
Shifting Perspectives and Emerging Directions in Design Pedagogy by Ashraf M. Salama, 27November 2017   Details>
---
Contemporary Housing Transformations and Urban dynamics on the Arabian Peninsula by Ashraf M. Salama, 28 November 2017   Details>