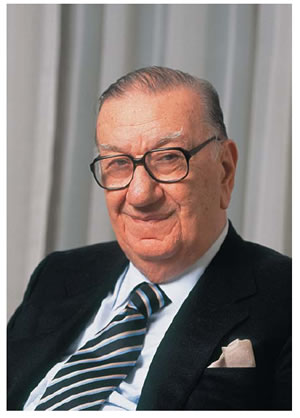 Founder of Bilkent University
1915 - 2010
Bilkent University - the first private, nonprofit university in Turkey - was founded on October 20, 1984, by Professor İhsan Doğramacı with the fundamental aim of creating a center of excellence in higher education and research. The name "Bilkent" exemplifies this aim, since it is an acronym of "bilim kenti": Turkish for "city of learning and science." 
Preparations for Bilkent University had begun as early as 1967, with the purchase of a large tract of land to the west of Ankara. In the late 1970s and early 1980s the above-mentioned foundations undertook construction, on the future site of Bilkent, of the buildings, which now house administrative offices, the Faculty of Engineering, and the library. Construction of residences for academic staff, cafeterias, student dormitories, the Student Union building and various academic buildings followed in rapid succession.
The Department of Interior Architecture and Environmental Design was one of the first departments to be established within the Faculty of Art, Design and Architecture in 1987. In 1991, it graduated its first class of 18 students. The department was the first in the field to be established in a private university and the fourth in Turkey. Bilkent's Graduate Program was established during the 1990-1991 academic year with a mission to promote research as well as to educate competent academic faculty that would advance in the field and elevate educational standards. Today there are more than 30 interior architecture departments in Turkey and Bilkent graduates are highly preferred as faculty members and administrators in many of these institutions.